Natalia Batista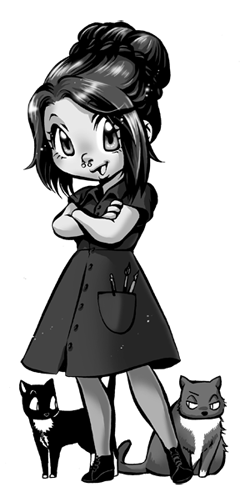 Born 1986 in Sweden, but has Polish and Portuguese parents. Studied comic art in 2005-2007 at Serieskolan in Malmö, Sweden's most prominent school for sequential art. She also studied Japanese at the University of Lund 2007-2008.
In 2009 she selfpublished her BL manga A song for Elise as a book, after having it online for about a year at SmackJeeves. She sent the finished book to publishers and Tokyopop in Germany got interested and decided to publish a German version called Ein Lied für Elise in 2010.
Her debut in Sweden came in 2010 with her childrens manga Mjau!, about the two cats Ville and Vanilj. It has also been translated into Portuguese and published in the manga magazine Banzai. In 2017, it was Kickstarted and published by Phoenix Dream Publishing in the US.
She has also illustrated the Swedish children's book series Häxfolket by Jo Salmson, and participated is various publications. She's a member of the Swedish manga art collective Nosebleed Studio, which publishes anthologies with the members works.
Right now, she works as a comic art teacher at Serieskolan in Malmö, and holds lectures and workshops at schools, libraries and manga conventions.
If you want to follow her work and get sneak peeks on her projects, check out her Blog.